Anabolic Frolic – The Rave Experience DVD
New for 2009!
The ultimate "Rave Concert" Movie from Night Garden Films. Buy yours today at the Anabolic Frolic Store!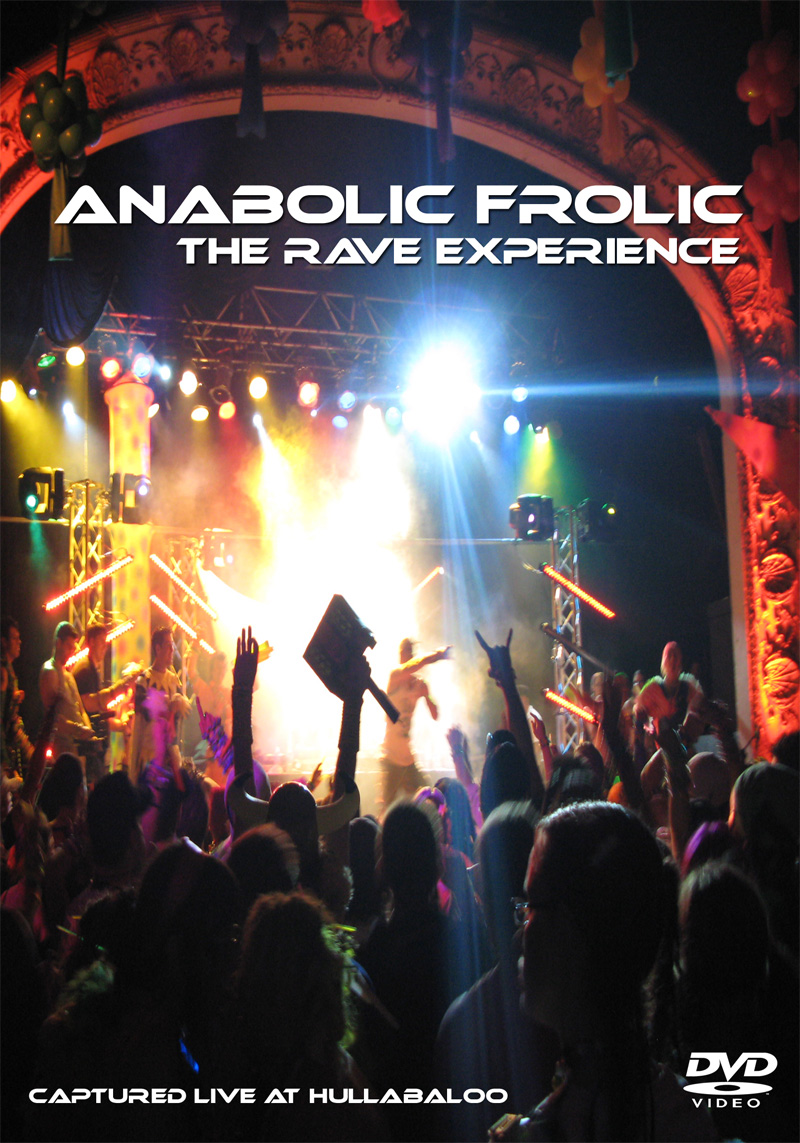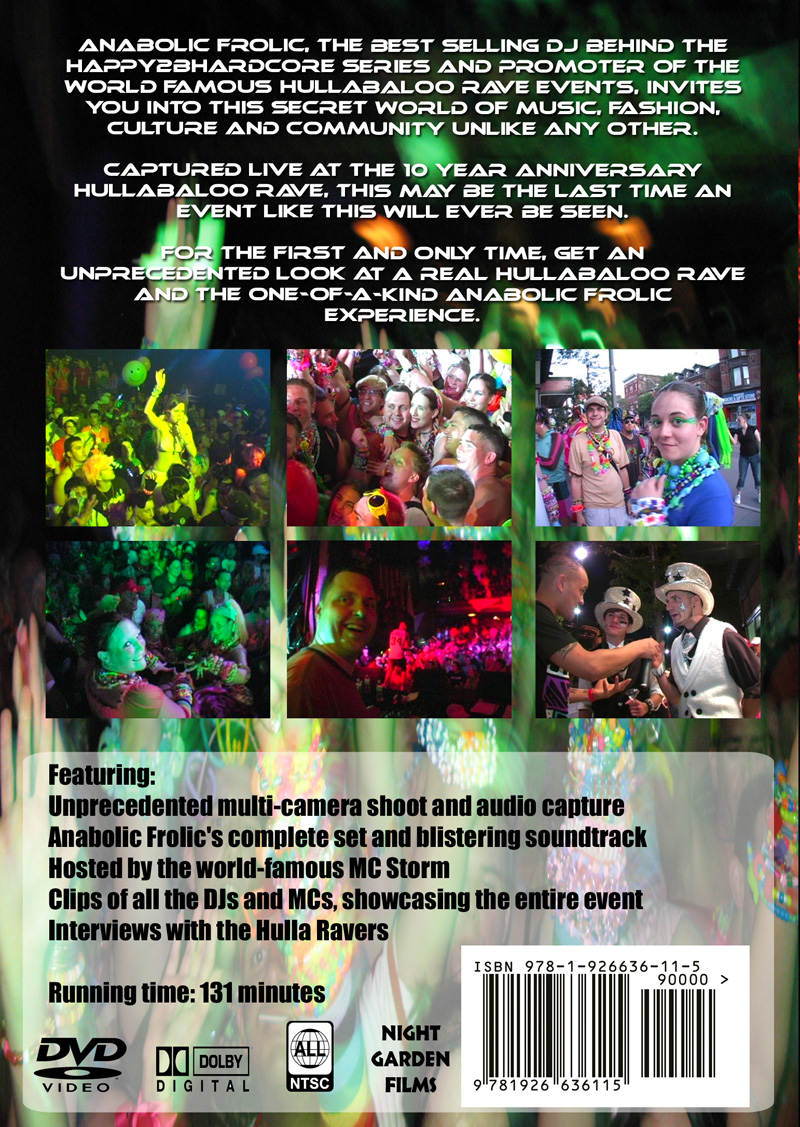 Buy Yours Today

---

OMFG!!! Just got the package and the DVD is AMAZING! I had almost
forgotten how awesome Hulla was. You did an absolutely amazing job making
the video. I watched it on my projector and it was almost like being back
at the Opera House on a 10-foot screen. I have a feeling I'm going to burn
out the lightbulb watching it 😛 Thanks again for everything.
-Baron
---
I swear since i have recieved this video in the mail i have been on cloud 9. Hullabaloo has been such a glue with my crew of friends in the mid-west this party came around @ a time were everything around us seemed to be crumbling, it brought all of us back to that place of innocents that we have desperatley needed for years. Not being finacially able to attend a previous Hulla it will always be on a level to me that no other party will ever be able to duplicate. Hullabaloo is not just a party but a oasis from all the things in life that we try 2 escape from an i am forever gracious that i was able to be a part of it, it has changed my life an reminded me why i became a raver in the first place so thank u chris an robin i would say u probably will never know what you've have done for all of us, but im pretty confident u do!
and maybe one day we will all be able to share this experience ONE MORE TIME!
MUCH LUV
M@g!k BoB
---
SOOOOO..i received the DVD …and watched it at a friends house (kandi on & everything) ..
This DVD brought a tear 2 my eye, at least 3 times & chills on my arms (2 my count…16times) I saw myself at least 8 times in the crowd…and at the very end when people were leaving, I was shown (with the metroid shirt & winnie the pooh backpack) which thrilled the crap outta me. This DVD captured everything and more about Hulla…brought back alotta great memories and happy feelings that only Hulla coulda brought. Thank you, for this DVD and the chance to live in the life of Hulla….AND I NOTICED AT THE END…IT SAID…`NEVER SAY NEVER` …Hope that the very last sentence lives up 2 what I can only expect to be the biggest party TORONTO has ever seen.
Thankyou,
RI.n.P
---
This DVD is amazing!! Filmed very well shows the true story of what raving is all about. It's not about the drugs as media portrays. It's about the vibe and the vibe is PLUR .. Peace Love Unity & Respect. Once you go through those doors you are safe, you are home. You don't have to worry, you don't have to look over your shoulder .. the only reason to look over your shoulder is to look for a friend. Watching this DVD even if you've never been to a Hulla or never even been to a rave you will truly understand and love what it is all about. It's not shady it's warm and fuzzy and about love and acceptance. If you were ever to pick up a book or a movie about raving and the experience I would highly recommend you buying this DVD b/c no other will show you ACTUALLY SHOW you whats it's like to live a night as a raver.
RainbowStar
---
The music, the crowd, the love, the family. The video is the perfect way to relive that magical night over and over again. Not only was it fun to see people I knew in the crowd, but the sound is fantastic and especially during Anabolic Frolics' set, it makes you feel transported to the middle of the rave all over again. A perfect way to remember the fun, make your friends jealous if they didn't go, and it will make a good relic to prove to our Grandkids 50 years from now how incredibly fun and cool we were.
-Property
---
The Hullabaloo Rave DVD is an all encompassing look into the eclectic world of Hullabaloo. Whistle posse pumping, piano hands in the air, fun fur wearing, kandi covered raving at it's most fantastic and hedonistic. An amazing chronicle of an iconic event.
Hulla4Ever! <3
-Kyle
---
Whether you have experienced Hulla in person or you've never been, this DVD is the definition of what Hulla is. The main attraction is, of course, the set by Anabolic Frolic with MC Storm. The crowd is into it from the beginning, and Storm is a bundle of energy throughout. Anabolic Frolic puts on a set to remember at the (potentially) final Hulla. Guiding the crowd through the high-energy portions as well as the breakdowns, MC Storm puts ona a memorable MC experience. Anabolic Frolic does what he does best: pulls out all the stops, playing the anthems the crowd yearns for (which they obligingly sing when they hot) and also playing the harder stuff that the passing fan of Frolic (or hardcore in general) may not be familiar with. This DVD is a must-buy for any fans of Hulla or Anabolic Frolic. The only thing that could have been better, would have been if the Hulla crew decided to put the entire night onto a multiple-disc set for all the worl to experience. I have never been to a Hulla, and I have only experienced one set from Anabolic Frolic which was at WEMF 2002, but I must say, if there ever were to be another Hulla, I would definitly be in attendance. Until such time, I will just have to pull out this DVD, pop it into my player, relax and experience what Hulla is all about: the vibe, the music, and the people.
From a technical standpoint, the DVD is not perfect. There are instances of audio level dropping during the main set, which is clearly not intentional on anyone's part. There are also instances of video blurring, as well as one instance where a wire attached to the camera is visible in frame for about a minute (which is semi-annoying). One thing that this disc could stand to have benifitted from is if the audio had been in 5.1 Dolby Digital Surround Sound instead of the Dolby Digital 2.0 Stereo Sound that it is recorded in. If the audio had been able to be in surround sound instead of stereo, it really would immerse you in the energy and vibe of the night. Luckily, if you have a surround sound system, it should be able to matrix it so that you can truly immerse yourself in the experience. Overall, this DVD is a must-buy for the raver in all of us.
-Rob