URB Magazine (USA) May 2001
happiness is...
Toronto's ANABOLIC FROLIC is happy hardcore's premiere ambassador, but the global dance superpowers aren't respecting his nation.
WORDS: Pete Skafish
PHOTOS: Celine Saki
IT'S 4:30 A.M. ON A FEBRUARY NIGHT in Toronto, and I'm standing close to an elevated DJ booth where Anabolic Frolic, the city's happy hardcore kingpin, is finishing his set. He's playing at Hullabaloo, North America's premiere happy hardcore event, which he organizes, headlines and promotes with crowds that frequently approach 3,000. Euphoric warmth, atypical of the fluorescent mirth usually found at a trance or hardcore event, pervades the room. It's an authentic, collective enthusiasm about music that finds a focal point in Anabolic Frolic, who holds court like a cheerful preacher amongst his happy flock.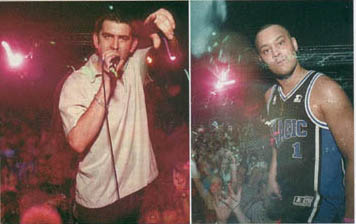 The analogy isn't all metaphor. I watch as Anabolic Frolic, flanked by two Hullabaloo frequent-flyers, the English MCs Charlie B and Storm, passes a microphone to an awkwardly confident 20-year-old who declares his love for a young woman who has just joined him on stage. With bated breath, 2,500 ravers await the public marriage proposal that follows. Once he's popped the question, the crowd erupts in celebration while Anabolic Frolic beams, seemingly satisfied to have facilitated such a communal ceremony.
There's nothing in the maudlin atmosphere to suggest tragedy or death, but both occurred earlier this evening. An ominous police presence outside the venue and proliferating reports that a raver has been stabbed appear to only minimally affect Hullabaloo's ebullient participants (though some will later tell me that they were simply making the best of what could have been a very bad night). Few will know until the next day, when Toronto's newspapers loudly announce it as evidence of the dangers of raves, that the stabbed raver was dealt a fatal blow to the heart.
It is unlikely that Anabolic Frolic is even minimally responsible for the youth's death: Two years back, Hullabaloo began hiring off-duty police and EMTs to provide security and medical services to partygoers, and tonight was no exception. Since violence has never been a metonym for raves in the way Ecstasy overdoses have, the incident warrants attention only because Hullabaloo, in the space of a single night, was the scene of both marriage and death, two events that definitively punctuate human life and are sources of existential anxiety, religious activity and profound mystery. The transcendental, spiritual dimension of raves, which is markedly present at Hullabaloo, is ironically underscored by the fact that it simultaneously hosted the departure of one soul and the union of two others.
"I accepted the fact that happy hardcore wasn't going to get critical reception years ago… At the end of the day, there's a hell of a lot of people that are into what I do." -Anabolic Frolic
Happy To Be Happy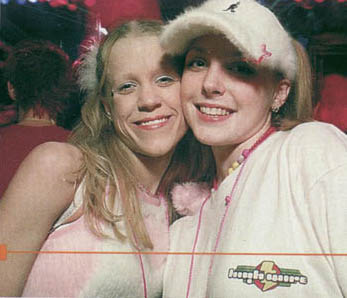 What do happy hardcore and its leading North American DJ (whose pseudonym makes him sound like a frightening hybrid of a steroid-ingesting frat boy and a free-loving MDMA burnout) have to do with such sacred and archetypal forces? A few days earlier, Anabolic Frolic ate lunch at an Ethiopian restaurant near Toronto's Little India district and explained why this most execrable of genres (if one adheres to the conventional wisdom of the electronic music community, which regards happy hardcore like avant-gardists do contemporary fusion jazz) enjoys popularity as the sonic lingua franca of tens of thousands of ravers.
Anabolic Frolic, nëe Chris Frolic, has a subdued, amiable demeanor and distinctly Ukrainian features, giving him a milder appearance than the frightening image of a nylon-clad Aryan clone his alias suggests. "A friend of mine had an herbal tea called Anabolic Frolic," says Frolic, in response to the question about the meaning of the name. "I liked the ring of it, and the fact that it actually stands for something: frolic - 'having fun' - and anabolic - 'people working out through dance.'"
As the force responsible for compiling and mixing the tracks on Moonshine's five-volume Happy 2B Hardcore series, Frolic has sold over 200,000 CDs, putting him in the rarefied company of figures like Paul Van Dyk, Christopher Lawrence, Roni Size and Fatboy Slim. When it comes to spinning at events, Frolic is frequently sought after by promoters eager for the large crowds he virtually guarantees. But such success hasn't garnered him critical recognition or even a commensurate share of press coverage. This is largely due to a perception of happy hardcore as the paradigmatic teenage genre, its artless saccharine-amphetamine blend putting it squarely outside the bounds of serious music.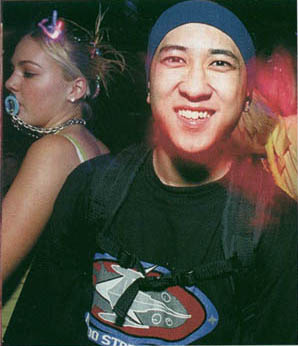 "I accepted the fact that happy hardcore wasn't going to get critical reception years ago. It used to bother me, but I've given up," says Frolic, whose unpretentious charm is reinforced by a guileless grin that rarely leaves his face. "But at the end of the day, there's a hell of a lot of people that are into what I do."
Both the success and the marginalization of happy hardcore are linked to its unconstrained expressions of love, joy and euphoria. Whereas a genre like drum & bass managed to make high art out of aggression, angst and spliff-induced paranoia (and received critical props for doing so), happy hardcore has languished in underground obscurity since its equally exaggerated depictions of eurhythmic bliss and cheerful mania have failed to resonate with twentysomething music journalists.
When this is pointed out, Frolic casually rolls his eyes. "A big criticism of happy hardcore is that it's too happy, but my opinion is, 'So what?' The world is so full of anger and darkness. What's wrong with having a little bit of an escape through music? What's wrong with putting on a CD that makes you smile every time you listen to it or with going to a party where, for one night only, everybody is celebrating happiness?"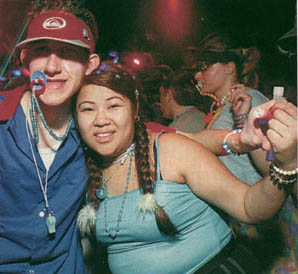 Frolic, a self-described "optimist", certainly looks the part of a happiness advocate. He is all smiles during his set at Hullabaloo, the antithesis of poker-faced and stoic DJs, while his girlfriend, who promotes Hullabaloo with him, works the crowd in a full-body dog costume. While it would be easy to dismiss such surreal antics, there's something refreshing about the couple's dedication to Toronto ravers.
Hardcore Roots
The oft repeated claim that happy hardcore's treble- and speed-induced enthusiasm is far afield of the refinement of so-called respectable electronic genres neglects its auspicious genealogy. Early happy hardcore was jungle's closest cousin, both having emerged from UK hardcore and breakbeat, genres of the early '90s that now sound like inchoate predecessors to what followed. Soon after breakbeats began providing syncopated substrates for the synth stabs of hardcore, tempos accelerated to breakneck speeds as both jungle and early happy hardcore were born. But like mythological demigod brothers embodying polarized cosmic forces, jungle would become largely associated with the expression of darkness, while happy hardcore would come to represent the frequencies at the opposite end of the emotional spectrum.
"SMD I-V," a series of seminal tracks by DJ Slipmatt featuring bouncy, sped-up piano loops sampled from classic house tracks, provided definition for the emerging genre as its first identifiable tracks. "DJ Slipmatt is basically considered the godfather of happy hardcore," says Frolic. "Just like on the jungle side you have Grooverider or Mickey Finn." Other figures key to the music's early development include Billy Bunter, Sy, Seduction, Luna-C, Vibes and Druid. Frolic's own relationship with happy hardcore began with "a chance encounter with some mixtapes by DJ Slipmatt, Vibes and Druid. I give each of those guys full credit for getting me into the scene."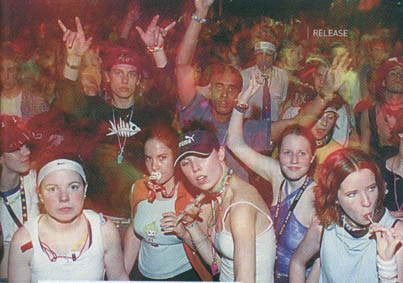 While drum & bass rapidly migrated from raves to London clubs to achieve its popularity as a metropolitan and transnational sonic idiom, happy hardcore remained a genre associated with both raves and its constituency in the south of England. Though currently dwindling in popularity in Britain, happy hardcore continues its association there with underground parties and the bygone era of the summer of love. Frolic has managed to replicate this spirit at his Toronto Hullabaloo events, which go some way toward capturing a collective ethos where music and community supplant the commercialism so pervasive at many parties of similar size in North America.
"There's definitely a whole unique atmosphere that comes with Hulla," says Frolic. "Many of the kids that go to Hullabaloo refer to themselves as Hulla-ravers. There are very few parties were the kids identify themselves with the promoter's company."
Chris C., a British hard house DJ present at this February's Hullabaloo, says of the regular event, "It's not meant to be a detrimental comment at all, but it's like going back in a time warp... to what it used to be like in the UK."
Mirthful observations from Hulla Ravers: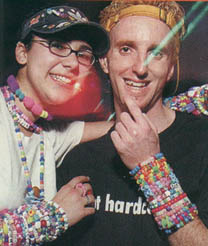 "Unlike other promoters, Anabolic Frolic doesn't commercialize Hullabaloo. That is the magic, and people will travel from all over the country to be part of that magic." -Nikola Prestano, 18
"Hullabaloo is a Mecca for candy kids. It's what a rave should be about - the music and the people, who greet you with 'Happy Hulla' as soon as you walk in the door." -Yadir "Kay" Kagan, 24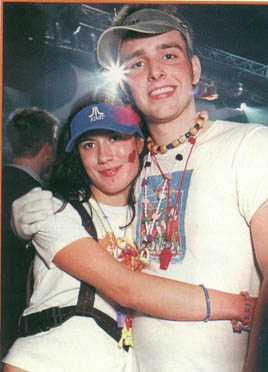 "When I first went to Hullabaloo, I found that everybody was happy to be there and full of energy. People were really friendly." -Julia Kennedy, 17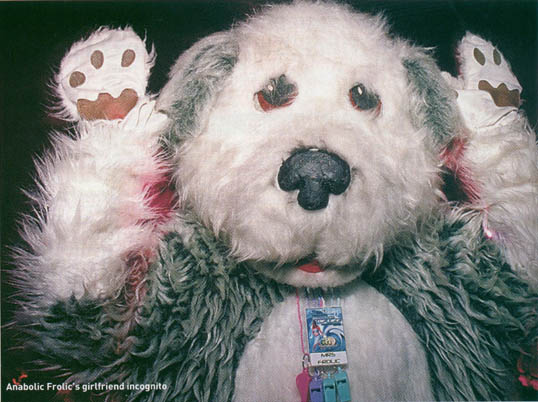 "Happy Hardcore is about being yourself and everything innocent."
"Anabolic Frolic is a really awesome DJ. He's worked really hard to be where he is now. He seems to care about what he's doing, and he's not just doing it for the money. With other big production companies, they over-pack the venue just to make money. Sometimes you get problems with the police, where they won't let people in or out of the venue because there's too many people. But Hullabaloo always sets limits on the capacity so there's enough room for people to dance. They're not trying to rip off ravers." -Polly Yung, 17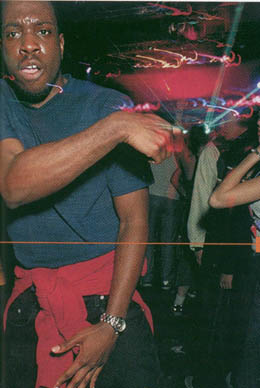 "Hullabaloo changed my view of happy hardcore and raves. I'll be going to the next Hullabaloo." -Kareem Utley, 22
.
"The thing I love about happy hardcore is the happy, positive message that it gives out. I really think that the way things are today, kids never have a chance to be kids. Happy hardcore allows you to be yourself and everything innocent." -Daniela La Presti, 21
The Accidental DJ
Hullabaloo, like most of Frolic's musical activities, has practical origins: Toronto, like most North American metropolises, was without a regular happy hardcore event until the party filled the vacuum. Frolic's career as a DJ began similarly six years ago, when he began importing otherwise unavailable happy hardcore singles. "My goal was never to become a DJ or anything like that; it just kind of happened," he says. "I became a DJ out of necessity because it was the only way to get the music that I wanted to hear."
After scoring a pair of second-hand turntables at a pawnshop, Frolic began recording mixtapes "for anyone who wanted one, including anyone on the Internet." Covering postage with pocket change, he gave away hundreds of mixtapes, a move that paid off in 1996 when he was contacted by a Moonshine employee who had just heard one of them, with the offer to mix the first volume of the Happy 2B Hardcore series.
"Looking back on it now, I think it's crazy that they basically called me out of the blue and asked me to do a CD," says Frolic. "I just happened to be in the right place at the right time. And because I was importing the records, I was higher up on the food chain, so they figured I would be as good as anyone at compiling a CD for them."
Regression and Release
Fast forward to the Hullabaloo party, where I wander the venue during the aftermath of Anabolic Frolic's set. It's only a couple weeks before the carnaval festivities of Latin America, and I can't help being struck by how Hullabaloo feels like a sanitized teen version of the hedonistic holiday. Brazilian carnaval, for instance, is a time for the bacchanalian release of repressed social and sexual urges - straight men don full drag, promiscuity is given free reign, women's nude bodies are publicly glorified and workers shirk their jobs after all-night revelry. Hullabaloo, like many events populated by candy ravers, is a place where kids can shirk the adulthood responsibilities and social roles they're beginning to assume in order to express their own libidinal urges.
But for a lot of young ravers, even the most wholesome of sexual desires can be overwhelming, so regressing to childhood innocence provides a sense of security preferable to the anxiety provoked by their emerging adult sexuality. For many, their most unrealized desire is to be a carefree kid safe in the womb of maternal love, a babe content to suckle the long-lost breast. Hence their now-famous manipulation of symbols of cuteness, including candy, bright colors and hugs. Ecstasy and ketamine aside, the culture of happy hardcore may not be utterly decadent, but it provides a space for the carnivalesque release of the inner child.
Satisfied with my interpretation, I turn around to a grinning candy raver, who removes a saliva-coated pacifier from her mouth. "Happy Hullabaloo," she says, repeating the greeting I've been hearing all evening. She then extends a clean, fresh pacifier to me. "I've got a few extras - want one?"
##