The Facts

3rd Best Selling Electronic Artist in North America (The LA Times).
International Headliner, has played 10,000 – 20,000 crowds in Canada, America, Hong Kong, Australia, UK.
400,000+ CDs sold, The Best Selling electronic series in North America (Soundscan).
Named in BPM Magazines Top 100 DJs 2004, the only hardcore DJ on the list.
Over 100,000 revellers made happy by Frolic's Hullabaloo events.
The first to bring Happy Hardcore to North America.
The Music
You can knock it, but you can't keep a good thing down.
Some dismiss the music as being candy, but it's a cultural force that's spawned a cult-like following and unabashed adoration for the quietly good-natured man called Anabolic Frolic, aka Chris Frolic.
His name is synonymous with Happy Hardcore. Frolic single-handedly raised this music to prominence. His best-selling CD series, sold out Hullabaloo events, and his warm and enthused live performances, have made Frolic a bankable international headliner of 10,000- to 20,000-person events, from the UK to the US, Australia and Hong Kong. Party kids everywhere share a uniquely personal relationship with Frolic and his sound.
The music came to Frolic as a randomly chosen UK import mixed tape at the legendary and now defunct rave shop, X-static, in 1995. He was instantly hooked. Happy Hardcore, with its frenetic pace and heartfelt vocals, was the original rave music that encompassed the values of the scene's early stages. A precocious music lover who loved early hip-hop and hardcore, Frolic chose this sound as the embodiment of his vibrant and emotionally alive outlook on life.
Frolic taught himself to DJ on a pair of used turntables bought from a pawn shop for CAD$100 dollars, because it was the only way he could listen to the music he loved in Toronto, or indeed, anywhere in North America, then. Frolic began importing and re-selling Happy Hardcore vinyl from the UK.
Happy Hardcore's ambassador was on his way to forge a new musical culture, replete with his own mixed CDs (Happy2bHardcore), track productions (Shelter Me, Feels So Right), internationally renowned serial events (Hullabaloo Productions), and a radio show, Happy Hour, which had more than 50,000 listeners a month.
"Toronto's Anabolic Frolic is happy hardcore's premiere Ambassador." – Urb Magazine
The Man
You just can't keep a good man down.
These days, you can't deny Frolic's legacy.
For 10 years his Toronto-based Hullabaloo events had a cult-like following throughout North America and beyond, selling out by word of mouth and emails, without flyers. The 8 volume Happy2bHardcore series went on to be North America's best-selling series, with over 400,000 CDs sold to date, a record likely never to be broken.
But things weren't always so rosy. At 28, Frolic fought good battles, both private and witheringly public, to keep his natural sense of optimism and mission intact. The man, like the music, is relentlessly upbeat.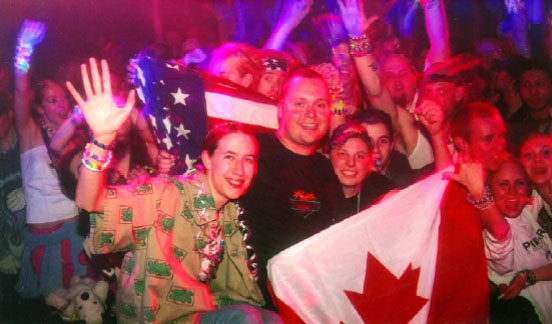 Frolic was born in Ottawa, Canada. He started work at age 12 at a computer gaming store because he loved all things digital. He bought his first computer there, working it off at $3 an hour. He'd be there for the following nine years, to become a summer manager by age 15, and ending as the retail chain's Director of Research, often travelling across Canada and the US for business functions. But by 1995, he became disillusioned with the business world, and quietly left it behind, although his entrepreneurial spirit remained.
It was then, at age 21, that Frolic discovered the rave, and the music. He started Nokturnal Records out of his bedroom, a company to import and sell vinyl on the net. In 1996, Frolic moved into a 10 by 12 foot, windowless office, sleeping on the floor for the next two years, while trying to make a go of his DJ career, and the events production company, Hullabaloo.
Within two months of sending an unsolicited mixed tape to Moonshine, Steve Levy, a founding co-owner, personally called Frolic. To this day a rarity, Frolic was the first and only unknown signed by the international music label based on an unsolicited demo.
The first Happy2bHardcore release in 1997 sold 100,000 copies, a staggering number for the genre. Over it's lifetime, the series has sold over 400,000 CDs. Chris also met a girl name Robin that year—a fan and staunch bare-footer from Southern California, who would become his wife.
Hullabaloo parties, too, with its youthful exuberance, and carnival feel, took off to become one of the best-known rave events in the world. It is renowned for keeping to true to the spirit of the rave: Peace, Love, Unity and Respect, in a completely open environment. A grassroots youth culture of their own making. More than 100,000 revelers from as far away as Europe, Australia, California and British Columbia have flocked to the 44 events held in Toronto.
After 8 years of world-class events Frolic decided it was time to end the Hullabaloo era on a high note and held the final event "All Good Things" on July 9th, 2005. Tickets sold out in an unprecedented 8 days, more than 5 months in advance.
He continues to delight audiences around the world with his much sought after DJ sets reminding ravers new and old about what the rave scene stood for and uniting the dancefloor in music. In 2007 he also performed the impossible – an unbelievable 10-year reunion party celebrating Hullabaloo. The legend indeed lives on as it sold out in a mind boggling 2 hours. Who knows what the future may hold.
Frolic keeps true to his name. He's a blessed man with a legendary DJ career, promotions company and CD series, and an enviable fan base. In 2002, he also wed Robin Frolic. In 2004 they welcomed their son Gavin to the family. They continue to reside in Toronto with their pug dog, Foo. With Frolic's personal and professional strides in check, it just goes to show you can't keep a good man down.
"…A Smashing Commercial Success!" – LA Times